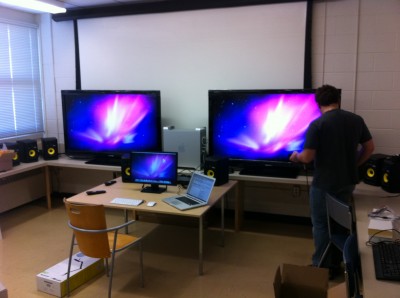 Remember the McLuhan TV Wall? That was part of a larger interactive installation project that is now making its way out to the Edmonton International Airport. More on that soon, but more to the point: Wave II (TV Wall was Wave I as I liked to call it) is now underway.
Wave is an interactive installation project with the goal of encouraging inter-departmental and inter-disciplinary involvement, as well as to celebrate the centennial of Marshall McLuhan's birth, a Canadian communication scholar who was born in Edmonton 100 years ago. The final project will be unveiled on June 23 at noon in the atrium of the Enterprise Square (old Bay building) downtown as part of the Media Ecology Convention 2011.
The final design is still under heavy development, something I'm very excited to be a part of. I've been working with Cezary Gajewski in the past few days, setting up our shipment of equipment and new toys in our development lab. Here's a few images and stats on the project.
Equipment:
1x Mac Pro (8 Core)
1x Mac Mini
1x MacBook Pro (mine)
2x Sharp 60″ LCD TVs
2x Acer monitors
8x KRK Studio Monitors
1x M-Audio ProFire 610 audio interface
University Departments involved: Drama (Tech), MACT/Extension, Electrical and Computer Engineering, Industrial Design, Music, English
Number of alphanumeric displays to be manufactured: 300 (by hand)
Video after the jump.
Shown here is our development environment for the next Wave Interactive Installation project. I'm using Quartz Composer Visualizer to run a simple ball-moving visualization across three different computers with a number of different video devices attached, all through a simple network cable.