In Spring/Summer 2015, Amelia Scott and I were granted an art commission for the inaugural Nuit Blanche Edmonton event, in September 2015.
The project, Flora: Digital Greenhouse, was created as a whimsical interactive experience. Originally envisioned as a "pop-up" installation, the greenhouse would be a place of calm, where the audience could explore and discover the electronically created flora or digital plants.
All flowers were designed, constructed and programmed by Joel Adria and Amelia Scott.
Planning & Design
We started out with plans for more than eight flowers, but whittled it down to six core plants and the associated decor and infrastructure. Sketches and component testing led to more prototyping. Most of the plants that were presented never quite left the prototype stage. While they were ready for public interaction, most of the electronics were left on prototype boards in the interest of time and scale.
Production
Production of the Digital Greenhouse has several components, including the actual plant development, creation of the Arduino and Raspberry Pi code, decor of the structure, and manufacturing of all the accessories including the custom wooden "planter boxes" the flowers live in.
All programming for the flowers was done by Joel Adria, taking advantage of the large communities of makers in the Raspberry Pi and Arduino communities.
Flora Species
Bluebells (Clocca caeruleus)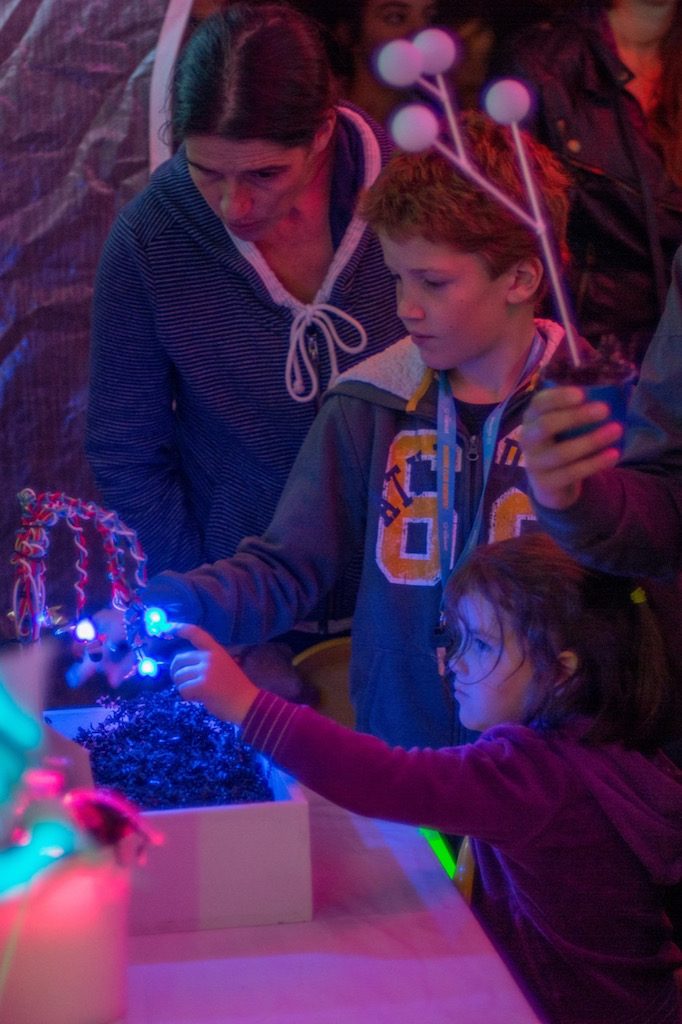 Ring my blossoms to play a tune.
Components:
Capacitive touch breakout
Arduino Uno
Copper foil
Wire
WS2812 RGB LEDs
Raspberry Pi B+, running Pure Data for audio playback
Powered speaker
RGB Watering (Irrigua pigmentum)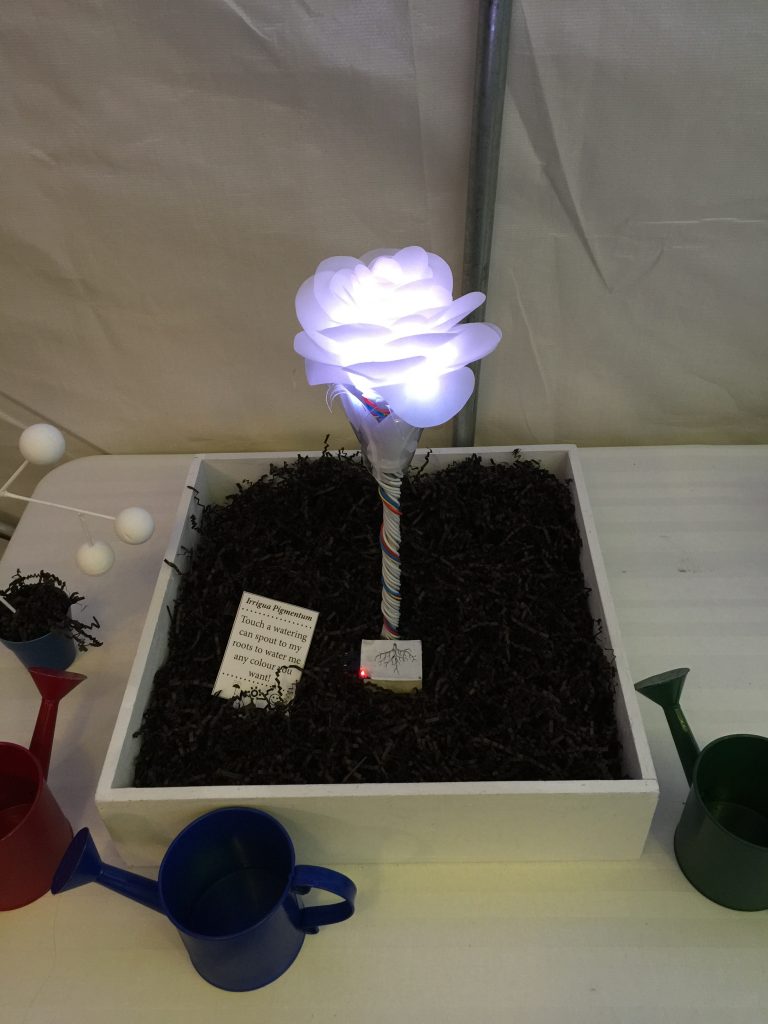 Touch a watering can spout to my roots to water me any colour you want!
Components:
RFID Breakout board
Arduino Uno
WS2812 RGB LEDs
Special custom RFID watering cans
Chameleon (Floris chameleonis)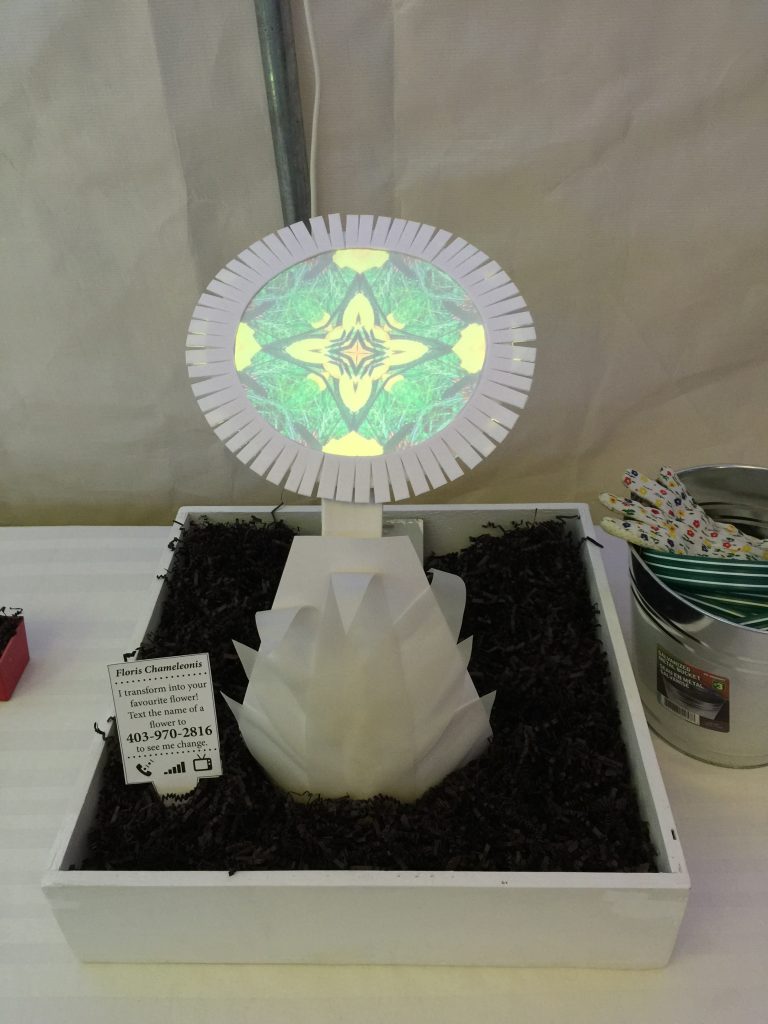 I transform into your favourite flower!  Text the name of a flower to me and watch me change!
Components:
Raspberry Pi 3
GSM Modem breakout
300+ flower database of flowers transforming, with autocorrect algorithm
aaxa Pico Projector
Mirror, Tissue Paper
Face Following Sunflower (Solis frontis)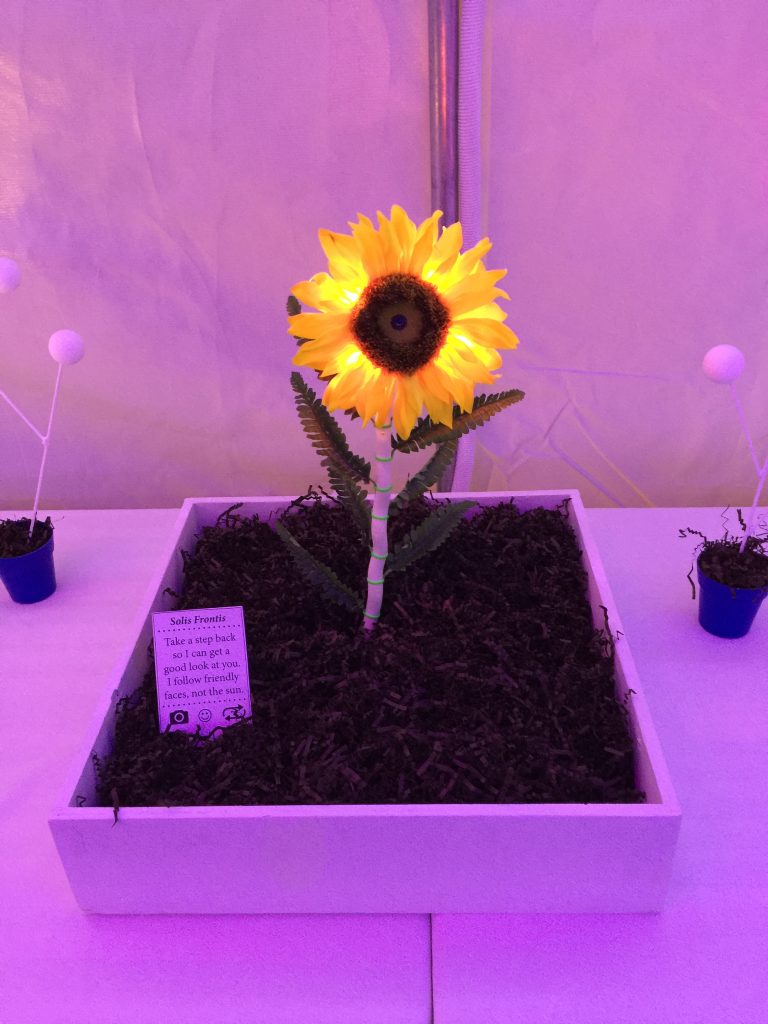 Take a step back so I can get a good look at you. I follow friendly faces, not the sun.
Components:
Raspberry Pi 2
OpenCV Face TrackingPython bindings
Arduino Uno
Adafruit Stepper motor driver
Stepper Motor
WS2812 RGB LEDs
Listening flower (Transmitto Rumoris)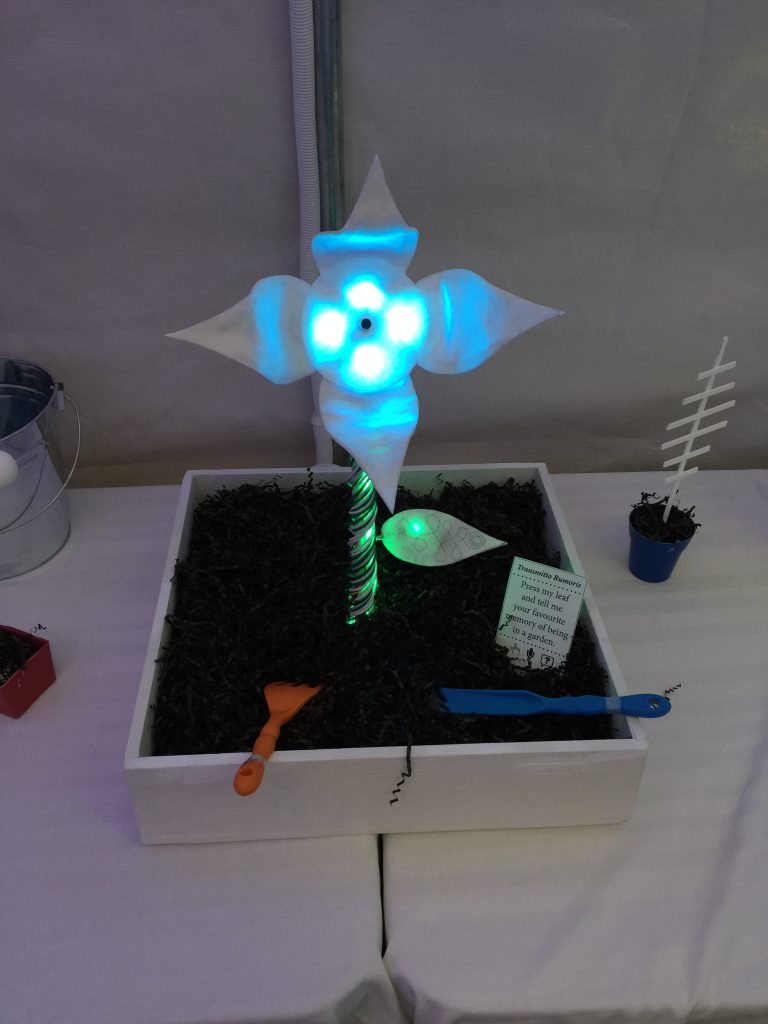 Press my leaf and tell me your favourite memory of being in a garden.
Components:
Raspberry Pi Model B
USB Audio Device
WS2801 LED Strip
WS2812 LEDs
Microphone
Network connectivity
Gossip flower (Admitto Rumoris)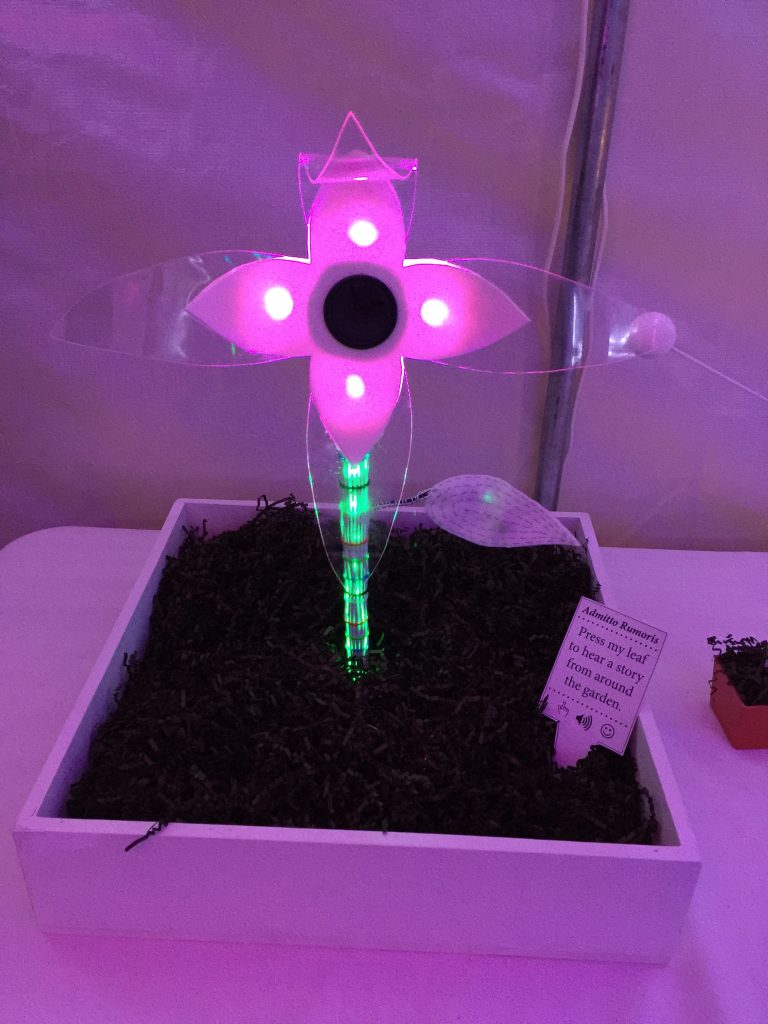 Press my leaf to hear a story from around the garden.
Components:
Raspberry Pi Model B
USB Audio Device
WS2801 LED Strip
WS2812 LEDs
Speaker with Mini amp kit
Network connectivity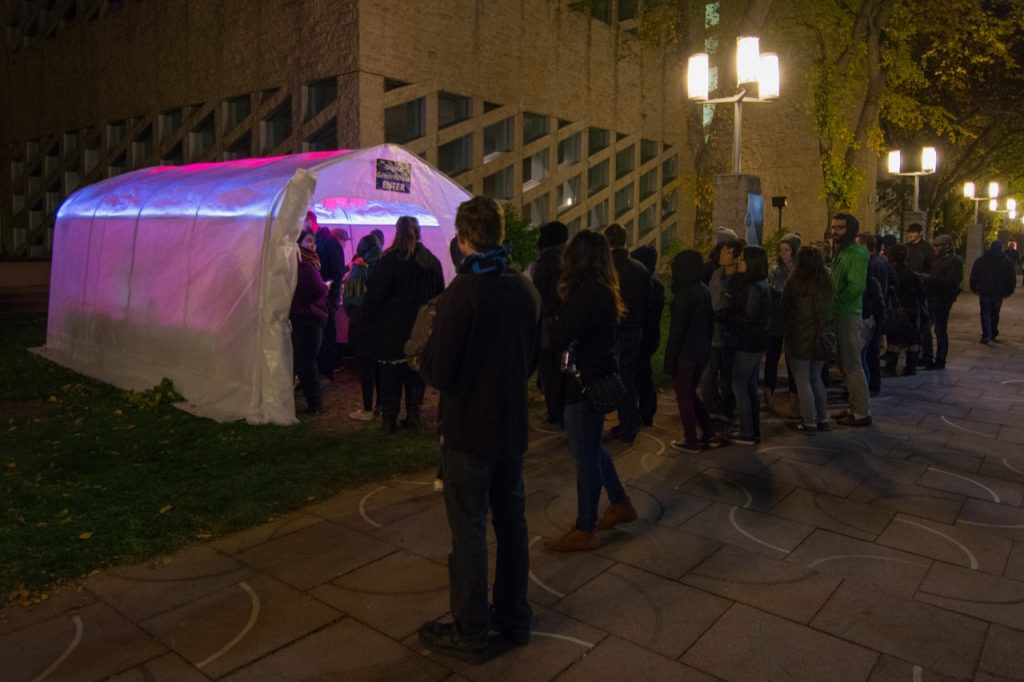 Components:
Hanging Baskets (Construction plastic, tubing)
Harnois greenhouse structure
Worbla Themoplastic custom shaped flower blossoms
7 Philips Hue bulbs
Raspberry Pi B+

Ambient sound playback
Hue bulb control (via Python)
DMX LED Strip pulsing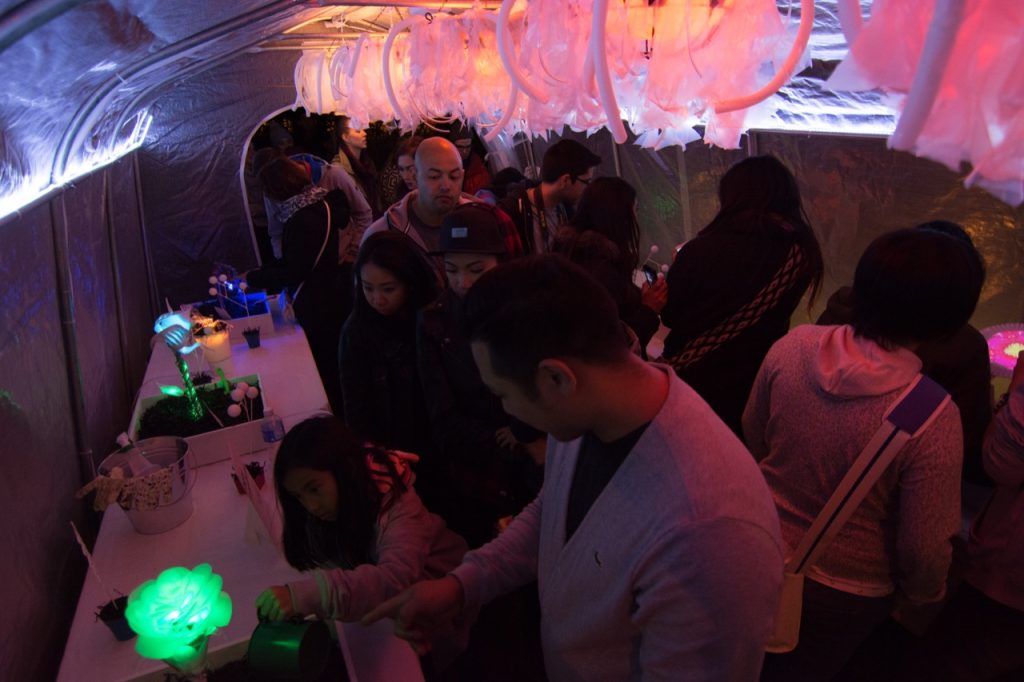 Exhibition
Flora was displayed at Beakerhead Calgary's Beakernight 2015, then again a week later at the first Nuit Blanche Edmonton in September 2015. It was remounted for UCalgaryStrong in Spring 2016, before being retired.
In August 2016, select plants were on display at the Calgary Mini Maker Faire at TELUS Spark, exhibiting the technology used in the plants to the Maker community.
Support
The Digital Greenhouse could not have been possible without the support of Nuit Blanche Edmonton, Edmonton Arts Council, and Alberta Culture Days.