Last week I was a bit busy, so the results were a bit lame, but I came up with this shortly afterwards. We'll call this "5."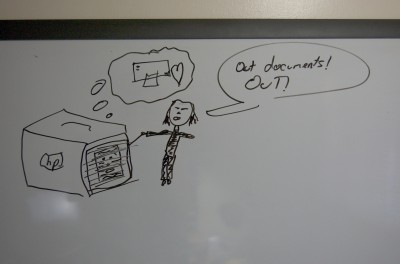 Basically Kevin was complaining about how HP wizards would not extract files until it saw a printer around. I imagined the files in a kennel looking for printers for it to spend time with. Kevin is hitting it with a stick demanding they come out.
Onto this week: my parents were off living the Italian lifestyle for a bit, and my sister and I were left to our own devices. Here's a summary of what happened (Guest author: Laura):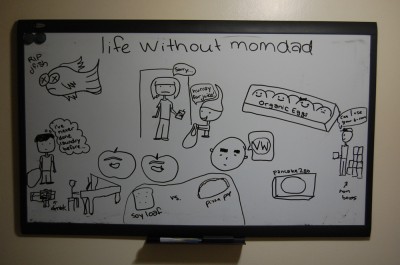 There is quite a bit going on here. Clockwise from top left: 
Laura hands out juice boxes to trick-or-treaters after running out of pencils. They are in fact, happier.
We stock the house with organic eggs.
Purolator guy shows up with a bunch of boxes ("Mom boxes") and asks to use the washroom. My sister cautiously permits.
We go for breakfast for with my Grandpa, and I get my last pancake "to go" (Hey! It would be a waste not to eat it! I had it for lunch today.)
Opa tells of chasing Oma and her boyfriend's Volkswagen. (Random!)
Food choices included pizza pops and soy loaf. My sister couldn't find any real bread at superstore apparently.
Laura brings home jack-o-latterns, they are composted after Halloween. That should work.
Derrick shows up before Laura comes home the day that Joel decides he's going to play piano for the first time in more than a year. He reads the newspaper until Laura gets home.
Joel learns how to do laundry. Later he observes the instructions on the machine. 
Of course other things happened but this was the overall summary. Until next week!