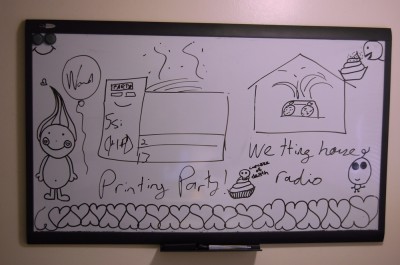 So I'm hoping you can identify my drawings from other people's by now. The printing party and wetting house radio is of course mine, and the rest are my sister's. There was also this hideous blingy smile, but I was so disgusted seeing it this morning that I had to erase it. Sorry Laura.
My favorite of Laura's is the guy creeping out from the frame eating a cupcake off the house. Awesome.
Printing party is a reference to Kevin's "My 5Si is going to have a party printing this document", referring to his epic typefest, writing up all of Grease: School Version…just for convenient access I guess. The wetting house is what you get when you take the "s" of your White-Westinghouse Radio. A radio that showers your house.
Stay tuned for a wonderful whiteboard animation of "La Neige en Deuil" by Henri Troyat.