After attending Edmonton's DemoCamp for more than a year now, I was extremely excited to present Bearbook in front of Edmonton's tech community tonight alongside chief programmer Yuri Sulyma. DemoCamp was one of the main reasons why I really felt motivated to develop Bearbook, in the hopes of someday presenting it alongside the awesome projects that came before me.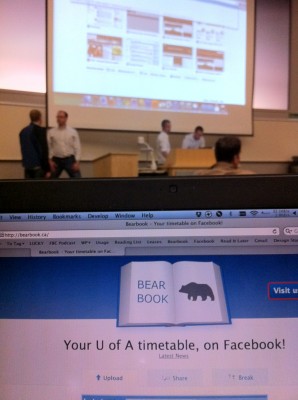 Going into tonight, Yuri and I joked that we would be bringing "demo back" by just giving a straight up demo of a project we'd been working on, minus some of the business jargon that seemed to have crept in over the year. (And I quote: "it's a social media engine!")
We got an absolutely amazing response both immediately on the twittersphere and afterwards at the meet-up. Here were some of our favorite comments:
@kenbautistaI like these Bearbook guys. Keep it simple, get users.
@kevin_swan I could see Bearbook scaling across tons of universities and colleges if expanded beyond the U of A. 5 Retweets
@BranigansLaw Great presentation on BearBook. Very unique idea, pure tech inspiration, embodiment of #democampyeg
@danaditomaso BearBook app for Facebook is really well done, kudos!
@dserink Bearbook definitely the best demo so far tonight – to me, this really embodies the spirit of #democampyeg
@outinc Ok #UofA students. If you haven't checked out BearBook on FB, do it. I'm not a student and I want to be on it. #verycool
I also kinda saw this one coming as soon as I started logging into BearTracks…
@outinc Dude's password is like 25 characters long, the entire room was impressed. #democampyeg
So thanks democampers, it was a really great experience, and it's a huge encouragement to keep going and develop more projects to share. Hopefully we brought a bit of "demo back" too!