This week I released my first whiteboard animation, as a social project. It is in French though, because I'm in French immersion so my projects are in French. 
In any event it still has some cool stuff and I hope you like it!
…
Ok, fine. There's also a static Whiteboard of the Week. I'm not explaining this week though, because it's not very meaningful and most of it was fairly context driven, but there was another guest drawer in this one. Make your guesses on what part it is!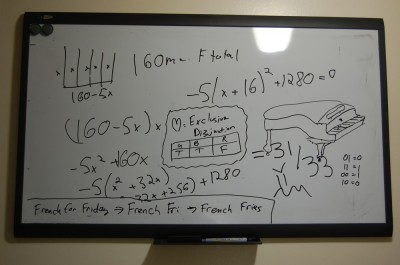 Oh and the video of course:
P.S. I guess that sorta makes this the public of jolevideo. It's been in private beta for a while, but that's news for a day when my PSU isn't fried. (Sigh…)
P.P.S. Thanks to Ashley for her contribution to the project! (No she isn't the guest drawer.)