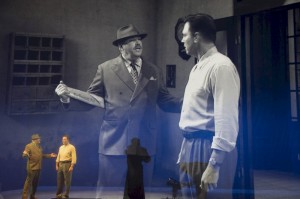 In the past few months I've been fortunate enough to be a part of the crew of Helen Lawrence, a unique production imagined by Stan Douglas. A cast of twelve perform a film-noire story conceived by Chris Haddock in front of a blue-screen set. A semi-transparent scrim separates the audience from the performers, onto which the action is projected live, combined with graphics to create an augmented movie-like experience.
I joined the project while at the Banff Centre in January, learning the ins and outs of the video system, designed by Peter Courtemanche.
Four cameras (three on moving dollies, one fixed near the ground at centre stage) are operated by the actors on-stage. Each camera (Canon XF305) has a custom-built encoder unit, which tracks the pan and tilt orientation of the tripod head. This information is relayed back to a set of Mac Mini servers, which orient the virtual world to be aligned precisely with the real world. The zoom lens on the cameras are calibrated with marks to pre-determined fields of view that correspond to cues in the video software.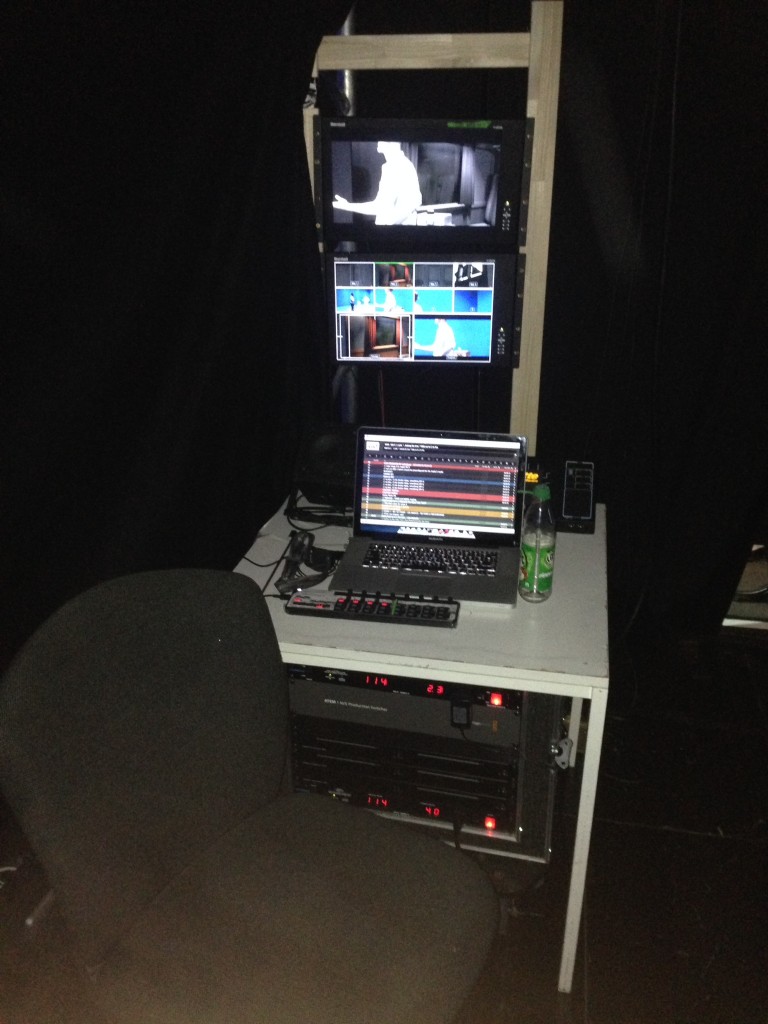 On the control end, an ATEM Blackmagic M/E video swticher accepts signal from the four cameras & four Mac Minis. Thanks to some expert engineering on Peter's end, the switcher can be controlled precisely using custom software. PGM & PVW buses, which feed the Ultimatte HD chromakey unit, are changed simultaneously, to ensure the backgrounds and camera images are switched at the same time.
Originally developed as a gallery installation, Peter's software had a number of additional capabilities, and was developed to be operated out of a web interface. Control commands to each Mac Mini and the switcher were relayed through a central server. After observing this setup in action, I could tell that a more theatre-friendly method of cueing and programming the show would benefit Helen Lawrence significantly.
Peter made some minor adjustments to the control server that would allow OSC control in addition to the usual UDP strings it expects. I turned to QLab to create a cue stack that would seamlessly control the entire system. Developing a script that would quickly interpret a plain-text file into a full cue stack, director Stan Douglas was able to make adjustments to edits and camera angles quickly and see them in performance in short order.
Helen Lawrence has played at the Stanley Theatre in Vancouver (Arts Club) and continued to the Münchner Kammerspiele in Munich, Germany last June. I will be continuing with the show on tour for the Edinburgh Fringe Festival, and again as it plays in Toronto with Canadian Stage in October.