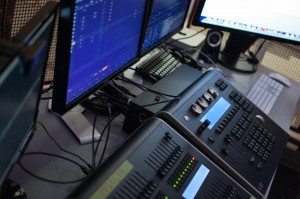 Back in March I helped out and participated in the HUB Mall Lighting Design competition, organized by Mel Geary.
The goal of the competition was to encourage experimentation with the new ETC Ion lighting console purchased for the FAB Media Room, while also allowing students to explore moving light fixtures, lighting pre-viz using ESP Vision, experiment with possibilities of the HUB Mall LED lighting rig, and of course to spur a bit of department competition!
My design was a series of chase effects programmed as step cues on the ETC Ion, all fired through QLab using Midi Show Control, timed to the music video, I Love Cats by schmoyoho. I also built the entire show exclusively using the off-line editor.
The winning design by first year BFA Theatre Designers Camille Maltais and Cheyenne Sykes earned them a free 1-year license of ESP Vision.
Overall it was a great experience, and plenty of HUB Mall residents poked their heads out to check out the shows. Typically the LEDs installed are operated at less than half their potential output, so the full-intensity fixtures were quite dramatic. We did have a few issues with some fixtures not responding correctly over DMX, probably due to the length of the runs and speed of data changes used. The wireless DMX transmitters/receivers we used to link our control station and the projection/I-Cue station setup mid-mall worked well though.
Check out the video Mel produced, or some of the photos I shot during the event, below.