The iPad is finally here, in all its glory.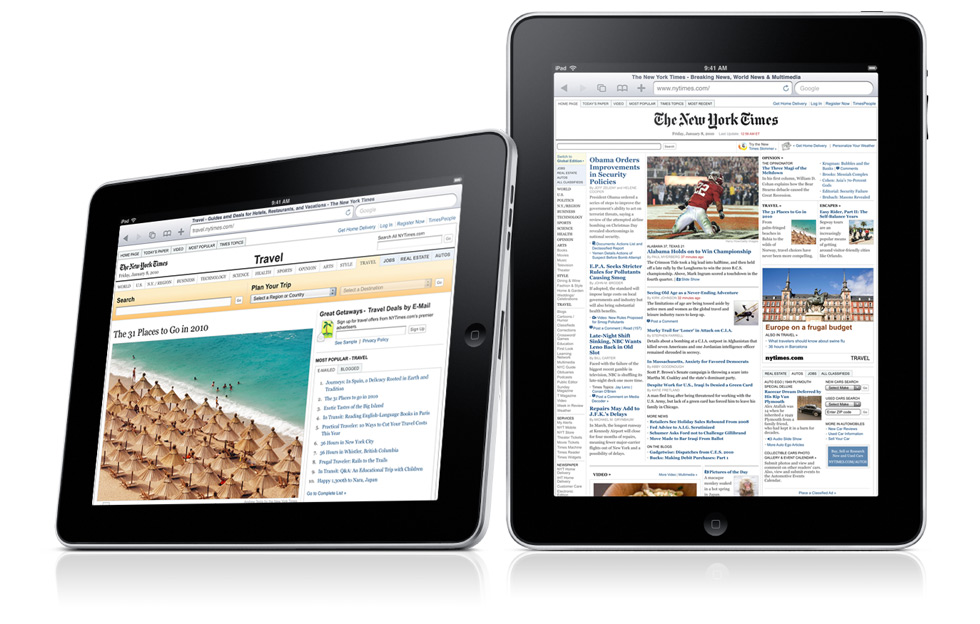 To my surprise, I don't feel too phased by the 
RDF
this time around, and still remain quite certain that the iPad does not (yet) have any role in my computing workflow and environment. My MacBook is without a doubt my sidekick, but for all those out there that get cranky about the 5 lbs in their backpack or hot and bothered by their poor battery life of their laptops, I can see this product really catching on. The general sense from the tech community is that this product is quite niche, and yet I think it is quite the opposite. We, the technologists, are the anti-niche. We have our bases covered for the most part, but it's the regular consumer who would need a device like this.
I could see the iPad taking the spot of my laptop day-to-day quite easily, but it's lacking some functionality that I would need to get my work done, and thus I will wait and look forward to the day it will undoubtedly come.
Flash: Despite being rather loathsome of this nightmare, the fact remains that half of my online course material in University is in Flash-powered eLearning sites. This varies from semester to semester of course, but as the perfect homework companion, I'd need something that can…well….get my homework done with.
Multitask: My fingers are glued to Command-Tab. Not much more to say to that.
Dev Environments: If I'm taking a CS degree, clearly I'll be doing a compilation here and there. I can always whip out a VNC client, or more likely an SSH client, but until those tools are proven to be efficient alternatives, it's pretty tough to bring it to CMPUT class.
Those are the three big ones for me. I would certainly spring for a hard keyboard and expect things like proper file management to be integrated in future versions of iPhone/iPad OS, but those are relatively minor issues. Flash I predict will come very soon. Flash 10.1 is coming down the pipe, and I figure Apple simply didn't want to share their plans with Adobe in the development of this product. Flash is a power hog, but 10.1 is supposed to improve that. Multitask will come in time. If it's been hacked on the iPhone it will be hacked or introduced on the iPad. As for development environments, I cannot wait to see a spinoff of 
JollyFastVNC
in the App Store so that all the power of my desktop can come straight to my tablet.
The iPad, I would say, is almost evolutionary. It's the natural progression from the multitouch devices Apple has been churning out. As we all know, 6 months from now iPad Plus will show up with a camera and double the pixel count (jk) and everything else that was on our wish lists, so for me I'll be holding off until then.
As for the name, I'm positive that in a few months iPad will remind us more of the Apple product than what it does now.