On Thursday my Dad (Marco Adria) launched his fourth book, 
Technology & Nationalism
at the University of Alberta. Of interest however, was that my Dad decided that as part of the launch, it would be appropriate to incorporate an online component to the launch. To keep it unique however, he opted to use Second Life as his platform of choice.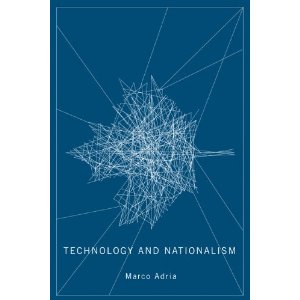 I also have tried out Second Life recently in my ENGL 122 course (which was taught by a colleague of my Dad's, oddly enough). Of course, running a book launch virtually inside SL and in a real room in tandem poses a few technical challenges, which Kevin and I took on.
We did a fair amount of testing and contemplation, but I drew up a diagram in preparation just to be certain.
(I drew this up in the totally awesome 
OmniGraffle
which I have been contemplating buying for some time now. I wish I would have just splurged a long time ago though, since I know see how incredibly useful it is! A free trial is available.)
The tricky part is to get the mixing all working correctly. Besides feedback in the room which needed to be kept in check, we also needed to make sure than when Laptop 1 was being fed a voice, that it did not start playing back to the main sound system with a delay, yet still be available for audio. In the end, there was very little audio that needed to be brought back from the laptops, since no one in the room asked any questions orally through SL, but via chat instead.
Of course, here are the tech pictures.
Kevin's Dell D620 was used as a monitoring device to make sure Second Lifers remotely could hear properly. His mixer and Telex/EV mics ran most of the show. His Edirol audio interface connects up with my Dad's Lenovo.
Second Life running on-screen.
EDIT: See some more photos from the launch on the Faculty of Extension Flickr account!