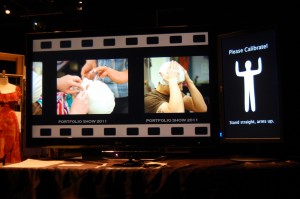 Kinect Korner was an exploration of the capabilities of the Microsoft Kinect motion-capture device. At the time I had developed some basic functionality for possibly inclusion in The Gertrude Stein Project presented at the The Timms Centre for the Arts. While I assisted with other video technology development in that show, Kinect technology was not used.
Thus, the Kinect Korner project was a personal one, as I was interested in understanding the limits and capabilities of Apple's Quartz Composer, as well as exploring what was possible with the Microsoft Kinect for submission to the annual Portfolio Show. Here's a video I shot during development that explains a bit of how the interaction works.
The Kinect data is interpreted using some middleware to create skeletal points of your body in 3D space. Using the tryplex toolkit for Quartz Composer, a skeleton view of your body is easily displayable. From there, the software can check to see if your arm is moving through pre-designated boxes. If it does, it will send the signal to a separate composition that displays the Film Strip viewer to move forward or backwards on the film strip. If no person is available to play, the film strip will recognize this and advance by itself.
For the installation we had both a local Film Strip display on an LCD TV, and a second computer running view-only on the grid to a projector. At times they were out of sync, but each were controlled using simple OSC commands without any video signals being sent between the two. Cool!
Be sure to check out Kinect Korner, a set on Flickr.