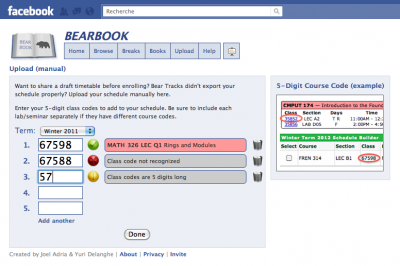 Bearbook has been under steady development over the past few months in preparation for next year's flow of schedules. A few new features that you may have noticed cropping up include:
Enhanced cohort tooltip
View friends on friends' timetables (not just your own)
New Facebook iframe architecture
Manual timetable uploader (new!)
The last one is pretty exciting, because it means more users can upload their timetables, including draft timetables from Schedule Builder. Users who have trouble uploading their ICS file from Beartracks, who cannot enrol because their registration hasn't been confirmed yet (High School students), or if you simply don't want to click "Enrol" yet but want to share your timetable around.
We did our best to make code entry as simple as possible, to make avoid mistakes before you even hit "Done".
Happy Bearbooking, and have a great summer!